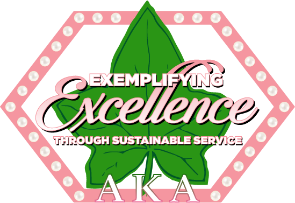 The Pearl Elegance Foundation, Incorporated provides and promotes charitable engagement and encouragement for the development of its community by addressing Alpha Kappa Alpha Sorority's five key targets - HBCU for Life: A Call to Action, Women's Healthcare and Wellness, Building Your Economic Legacy, The Arts and Global Impact.
---
Target 1: HBCU for Life: A Call to Action

Alpha Kappa Alpha focuses on education with an emphasis on historically black colleges and universities (HBCUs).

• The Pearl Elegance Foundation promotes and markets historically black colleges and universities and encourage students to attend HBCUs as a sustainability measure.

• Recognizing that HBCU funding is one of the primary obstacles that threaten the long-term growth and survival of HBCUs, PEF encourages its members and the community to financially support HBCUs to help students remain in school, complete their course of study, and receive their college degrees.

Signature Program: #CAPSM

Alpha Kappa Alpha assists students as they seek admission to college by providing guidance and support in completing the application and enrollment process through the 2018-2022 Signature Program, #CAPSM. #CAPSM is a step-by-step approach to facilitate college admission from researching various institutions and submitting applications through completion of the enrollment process. This educational initiative extends to all colleges and universities, both HBCUs and non-HBCUs.

Target 2: Women's Healthcare and Wellness

Alpha Kappa Alpha raises community awareness of critical health issues impacting African-American women by primarily focusing on breast cancer awareness and prevention, heart health, nutrition and wellness, and care for the caregivers.

• Breast Cancer Awareness and Prevention focuses specifically on early detection through mammograms to improve the survival rate of women diagnosed with breast cancer especially the need for African-American women to receive regular mammograms. PEF encourages women who are mammogram eligible to complete the Mammogram Pledge.

• Heart Health is committed to healthy hearts through fitness activities and walking.

• Nutrition and Wellness emphasizes healthy lifestyles including prenatal, childhood, adult, and senior nutrition programs.

• Care for the Caregivers places emphasis on taking care of those who take care of others and emphasizes the need for caregivers to practice preventive healthcare as well as self-care behavior to eliminate the vulnerabilities and risks associated with the stress of caregiving. Are you a caregiver? Join us for upcoming opportunities to receive support by signing up here.

Are you a licensed professional? We are always in search of professionals to help support our community causes and increase their potential client base. Register here if you are interested in becoming a community/business partner.

Target 3: Building Your Economic Legacy

Alpha Kappa Alpha will emphasize financial planning, asset accumulation, and wealth building including savings and investments, managing debt, and improving credit.

• Personal Financial Planning and Asset Accumulation. Financial Freedom Legacy Workshops are conducted in partnership with local certified financial planners who share information on saving, investing, and retirement planning.

• Credit Repair and Monitoring. This initiative focuses on ways to repair credit and improve credit scores including how to check for inaccurate or outdated information in credit reports, and how to protect against both identity theft and unauthorized credit history use.

• Entrepreneurship and the Black Dollar 365. This initiative highlights and promotes successful African-American owned businesses with an aim toward spawning new entrepreneurial ventures in our communities by encouraging intentional support and leveraging the power of the black dollar 365 days a year.

• Operation AKA Assist. This initiative focuses on implementing programs to assist those in need in various communities by directing attention to the plight of the homeless, including homeless children, and homeless veterans. PEF members volunteer and support the Elizabeth House Soup Kitchen and, in partnership with the Greater DC Diaper Bank, have hosted a diaper drive for baby items and adult diapers.

Target 4: The Arts!

Alpha Kappa Alpha exposes students to arts enrichment and culture by focusing on visual and performing arts and showcasing talent through the exploration of writers, entertainers and various other artists.

• Salute to the Harlem Renaissance celebrates the contributions of African-American artists during the Harlem Renaissance through student research and chapter sponsorship of student talent showcases.

• Salute to the Black Arts Movement focuses on student research and celebration of African-American artists during the Black Arts Movement. Activities will include art events, poetry slams, dancing, painting, and performing arts.

Target 5: Global Impact

Alpha Kappa Alpha engages in programming designed to enhance the international footprint of the sorority.

• National Global Impact Day. PEF participates in community service projects that have an international impact and partners with organizations that make a difference worldwide.

• Global Assistance Activities. PEF engages in global partnerships that provide assistance to the underserved in international areas populated with people of color. These partnerships include the following:

Soles 4 Souls. Members collect gently-worn shoes. Soles4Souls mission is to create sustainable jobs and provide relief through the distribution of shoes around the world.

Lions Club International. In partnership with the Lions Club, members participate in an eyeglass initiative designed to prevent blindness, help restore eyesight, and improve eye health and eye care for millions of people around the world by donating used eyeglasses.

Pillowcase Project. Pillowcases are used to make dresses for little girls and will expand the sorority's efforts to include shirts for little boys. The pillowcase dresses and shirts will be sent to Haiti to provide clothing for children in need.

• Refugees in America Assistance Program (RAAP). Members respond to refugees of color in the United States by partnering with organizations engaged in support activities that assist refugees and their families as they integrate into American life.