In the Community
---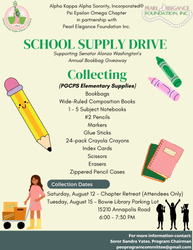 We give to help PGCPS students!
In August 2023, the Pearl Elegance Foundation, Inc. and Psi Epsilon Omega Chapter partnered with Senator Alonzo Washington (MD District 22) for his annual school bookbag giveaway. We collected well over 500 school supplies including backpacks to support Prince George's County public elementary school students. 
---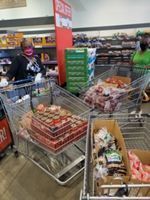 2020 Partnering to Feed Seniors
In June, Pearl Elegance Foundation & PepsiCo Grant in partnership with Faith AME Church in Laurel, MD provided 38 seniors in need with a weeks bag of groceries. COVID-19 has, directly or indirectly, impacted so many in our community in a number of ways. One of the most affected populations is our seniors. The Foundation recognizes the need within the communities we serve and following our mission, "We Give to Help Others", we work tirelessly to assist those in need.
 
---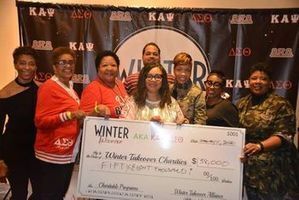 2020 Winter Takeover
Pearl Elegance Foundation is proud to announce the success of The 2020 Winter Takeover: the Ultimate Party For A Purpose! Occurring on January 11, 2020, this year's event marked the second annual collaboration among eight local, DMV-area alumni chapters and/or philanthropic arms of Alpha Kappa Alpha Sorority, Inc., Delta Sigma Theta Sorority, Inc., and Kappa Alpha Psi Fraternity, Inc. 
Pearl Elegance Foundation is pleased to have been a part of such an epic event; which took place at the National Harbor's Gaylord Resort and Convention Center, and hosted upwards of 1800 supporters. We are proud that over $56,000 in proceeds were raised which will go towards supporting our programs of service and our outreach efforts in the areas of Laurel, Greenbelt, and Bowie, Maryland, and the state of Maryland writ large. 
---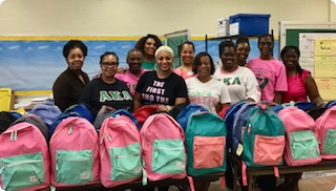 2019 Healthy Meals Initiative
The Pearl Elegance Foundation received a grant from PEPSI to implement its Healthy Meals Initiative at Springhill Lake Elementary School, a Title I School in Greenbelt, Maryland.
This initiative provides backpacks of food to 100 low-income students over the course of spring and winter breaks; a time when most students do not have food to eat. The packages include easy to prepare fresh and shelf-stable items including but not limited to fresh fruits, bread, yogurt, cereal, and juice to cover two meals a day for one week. 
---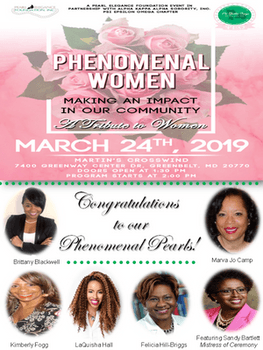 2019 Phenomenal Women Pearl Awards
On March 24, 2019, the Pearl Elegance Foundation paid tribute to five women leaders by honoring them with The Phenomenal Pearl Award for making significant contributions to their community through their time, actions, talents and dedications.  
The recipients of the 2019 Phenomenal Pearl Award are Brittany Gay Blackwell in Engineering, Dr. Felicia Hill-Briggs in Health, LaQuisha Hall in Education, Dr. Kimberly Fogg in Science, and Marva Jo Camp in Politics. These women are committed to making a difference and impacting the lives of those whom they touch through their work and daily lives. The Pearl Elegance Foundation salutes these Phenomenal Women.